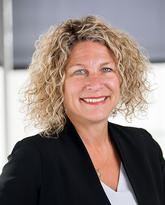 Kathryn Schneider
Associate Professor
Faculty of Kinesiology
PT, PhD - Sport Medicine and Kinesiology
University of Calgary, 2012
Research and teaching
Injury Prevention, Sport Medicine & Rehabilitation
Research interests
Schneider focuses on the prevention, detection and rehabilitation of concussion with a special interest in the role of the cervical spine and balance systems. Clinical and technological tests are used to evaluate multiple areas of sensory and motor function, ultimately gaining insight into changes that may occur following a concussion. Additionally, with the use of technological tests alongside clinical tests they are gaining a better understanding of how to best evaluate various components of function.
Ongoing projects in the lab focus on:
(1) the role of neuromuscular training and sensorimotor training in the prevention of concussion;
(2) changes that occur in measures of cervical spine, vestibular and sensory function with growth and development;
(3) changes that occur in measures of cervical spine, vestibular, and sensory function following a concussion; and
(4) optimizing rehabilitation techniques to enhance recovery and inform clinical care.
The program of clinical research involves collaboration with multiple clinicians and researchers across the University of Calgary and other national and international institutions, ultimately enabling clinically meaningful questions to be evaluated and translated back to the clinic.
Positions
Kathryn Schneider PT, PhD, DipManipPT
Associate Professor, Clinician Scientist
Faculty of Kinesiology, University of Calgary; Calgary, AB
Alberta Children's Hospital Research Institute
Clinical Specialist-Musculoskeletal Physiotherapy
Co-chair of the Concussion in Sport Group for our 6th International Consensus Conference
Biography
Kathryn Schneider is an associate professor and clinician scientist (physiotherapist) at UCalgary's Sport Injury Prevention Research Centre, Faculty of Kinesiology. She researches the prevention, detection and treatment of sport-related concussion. She identified a large treatment effect using multimodal physiotherapy and vestibular rehabilitation in athletes who have persistent symptoms following concussion. She is a clinical specialist in musculoskeletal physiotherapy, a fellow of the Canadian Academy of Manipulative Physiotherapists and has expertise in vestibular rehabilitation. Her clinical practice focuses on treating recreational to elite/professional athletes with ongoing symptoms following sport-related concussion. She has developed and instructs continuing education courses for physiotherapists and health care professionals in vestibular rehabilitation, cervical spine assessment/treatment and sport-related concussion. Avenue Magazine named her "Top 40 Under 40" in 2012 and she received the Vestibular Disorders Association (VEDA) Champion of Vestibular Medicine Award in 2015. Research which she led identified changes in measures of neck function following concussion and was awarded the 2018 Journal of Orthopaedic & Sports Physical Therapy (JOSPT) Excellence in Research Award. She is also co-chair of the Concussion in Sport Group for the 6th International Consensus Conference on Concussion in Sport. She has been invited to speak at the 4th and 5th International Consensus Conferences on Concussion in Sport; International Olympic Committee (IOC) medical meetings at the Sochi, Rio and PyeongChang Olympic games; and many international and national sport meetings. Over the past seven years, she has worked with local, provincial and national sport organizations and health care teams to develop and implement evidence-based concussion protocols and processes. She represents the Canadian Physiotherapy Association on the Canadian Concussion Collaborative, is a member of the Federal Government Working Group on Concussion in Sport and Parachute's Expert Advisory Committee on Concussion in Sport.
Read the UToday story about the online concussion course that allows anyone, anywhere to learn about concussion.