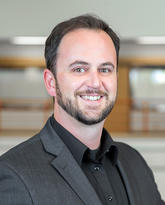 Tyler Cluff
Assistant Professor
Faculty of Kinesiology
PostDoctoral Fellowship Banting PDF- Motor Control and Learning
Queen's University, 2016
PhD - Neuroscience
McMaster University, 2012
MSc - Biomechanics
University of Ottawa, 2008
BSc (Hons) Summa cum laude - Kinesiology
University of Ottawa, 2006
Research and teaching
Exercise Physiology & Nutrition in Health & Sport
Neuroscience - Motor Control
Computational Biology
Research Interests
The goal Dr. Tyler Cluff, PhD, has for his work is to understand how the motor system learns to produce skilled actions. The research combines behavioral experiments with neurophysiological techniques and computational studies. His group conducts experimental studies using TMS, fMRI, EMG and robotic devices to alter the physical properties of the arm to measure motor learning.
Three main areas of research:
The role of sensory feedback in the selection, planning, and control of voluntary movements.
Basic principles of sensory processing and how they impact motor learning.
Brain imaging (fMRI) and stimulation techniques (TMS) to understand the neural circuits that support motor learning.
Research on motor learning will improve our understanding of the basic mechanisms underlying skilled movements. It may also yield better tools to understand movement deficits, as well as treatments that can be used in rehabilitation to improve sensory and motor function.