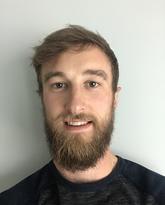 Stephen West
Postdoctoral Scholar
Faculty of Kinesiology
PhD - Injury Epidemiology and Prevention
Department for Health, University of Bath, UK, 2019
BSc - Sports Science and Health
Department for Health and Human Performance, Dublin City University, Ireland, 2014
Preferred method of communication
Email
Research and teaching
Injury prevention, sport medicine & rehabilitation
Injury epidemiology
Injury prevention
Training load/ athlete management
Research interests
Rugby Union is one of the most popular team sports globally, however it also demonstrates a high risk of injury and concussion across all levels of the sport. Over the past 5 years, Dr. West's research has focused on injury prevention and injury epidemiology in professional rugby union in the UK.
Working with the governing bodies of the sport in the UK, he has led the day-to-day management of the Professional Rugby Injury Surveillance Project and produced annual epidemiological reports on the risk of injury in the professional game. During this time, he also completed his PhD focusing on training load as a risk factor for injury as well as examining risk factors such as age, position, previous injury, previous concussion and match exposure.
Having recently arrived at the University of Calgary, his research as part of the Sport Injury Prevention Research Centre focuses on primary prevention of injury in youth rugby. These prevention strategies include a neuromuscular training warm up program, video analysis to identify high risk events during match play and tackle training interventions.
Supervisor
Dr. Carolyn Emery
Publications
West, S.W., Clubb, J., Torres-Ronda, L., Howells, D., Leng, E., Vescovi, J.D. Carmody, S., Posthumus, M., Dalen-Lorentson, T. & Windt, J. More than a metric: How training load is used in elite sport for athlete management. International Journal of Sports Medicine. 2020. (Accepted: In Press).
West, S.W., Starling, L.T., Kemp, S.P.T., Williams, S., Cross, M., Taylor, A., Brooks, J.H.M. & Stokes, K.A. Trends in match injury risk in professional male rugby union- a 16-season review of 10851 match injuries in the English Premiership (2002-2019): The Professional Rugby Injury Surveillance Project. British Journal of Sports Medicine. 2020 (Accepted: In Press).
West, S., Williams, S., Kemp, S., Eager, R., Cross, M. & Stokes, K. Training load, injury burden and team success in Professional Rugby Union: Risk Versus Reward. Journal of Athletic Training. 2020 (Online: Ahead of print) https://pubmed.ncbi.nlm.nih.gov/32818960/
Stokes, K.A., Jones, B., Bennett, M., Close, G.L., Gill, N., Hull, J.H., Kasper, A.M. Kemp, S.P.T., Mellalieu, S.D., Peirce, N., Stewart, B., Wall, B.T., West, S.W. & Cross, M. Returning to play after prolonged training restrictions in professional collision sports. International Journal of Sports Medicine. 2020 (Online ahead of print).https://pubmed.ncbi.nlm.nih.gov/32483768/
West. S., Williams, S., Kemp, S., Cross, M., McKay, C., Fuller, C., Taylor, A., Brooks, J. & Stokes, K. Patterns of training volume and injury risk in elite rugby union: an analysis of 1.5 million hours of training exposure over 11 seasons. Journal of Sport Sciences. 2020: 38 (3): 238-247. https://pubmed.ncbi.nlm.nih.gov/31755824/
West, S., Williams, S., Kemp, S., Cross, M. & Stokes, K. Athlete Monitoring in Rugby Union: Is Heterogeneity in Data Capture holding us back? Sports. 2019; 7(5): 98-108. https://pubmed.ncbi.nlm.nih.gov/31035621/
Williams, S., West, S., Howells, D., Mobed. R., Kemp, S. & Stokes, K. Modelling the HRV response to training loads in elite rugby sevens. Journal of Sports Science and Medicine. 2018; 17 (3): 402-408. https://pubmed.ncbi.nlm.nih.gov/30116113/
Williams, S., West, S., Cross, M.J. & Stokes, K.A. Better way to determine the acute: chronic workload ratio? British Journal of Sports Medicine. 2017; 51: 209-210.https://pubmed.ncbi.nlm.nih.gov/27650255/