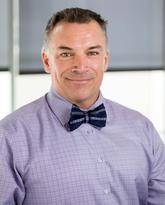 Reed Ferber
Professor, Director Running injury Clinic and We-TRAC
Faculty of Kinesiology
Postdoctoral Fellowship - Bioengineering
University of Calgary, 2004
Postdoctoral Fellowship - Bioengineering
University of Delaware, 2003
PhD - Biomechanics
University of Oregon, 2001
MSc - Sports Medicine
University of Oregon, 1998
Research and teaching
Movement Science & Musculoskeletal Health: Biomechanics
Biomechanics
Wearable Technology
Research interests
Dr. Ferber is the Director of the Running Injury Clinic. The goal of the Clinic is to educate and develop injury prevention and rehabilitation programs for runners and walkers of all ages through world-class research and clinical practice. The Clinic serves as a public facility for the clinical assessment of musculoskeletal injuries for walkers and runners as well as a dynamic research laboratory.
Research projects include the pathomechanics and optimal treatment of patellofemoral pain syndrome in runners, validation of clinical exams and optimization of treatment for non-specific low back pain, pathomechanics of iliotibial band syndrome, the relationship between foot structure and foot biomechanics, and optimal treatment protocols for knee osteoarthritis using real-time feedback.
You can find more information regarding our clinical practice and research at www.runninginjuryclinic.com.
Wearable Technology Research
Dr. Ferber is currently looking for people who use wearable technology to take part in research that will help create a data set that will improve planning and engineering in city communities. The project will begin in the spring of 2020 - please register HERE.
Please note, your information will remain anonymous and secure.
Awards
2015 - University of Calgary Teaching Hall of Fame - University of Calgary