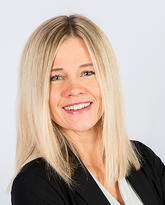 Raylene Reimer De Bruyn
Professor
Faculty of Kinesiology
Postdoctoral Fellow
Nestle Research Centre, Lausanne Switzerland, 1999
PhD - Food & Nutritional Science
University of Alberta, 1997
Research and teaching
Exercise Physiology & Nutrition in Health & Sport
Research interests
The Reimer Research Group focuses on understanding the full potential of nutrition to prevent and treat chronic disease. Their research spans basic science to determine the mechanisms through which diet affects the progression and maintenance of obesity through to applied human clinical studies evaluating the effectiveness of novel dietary interventions.
A central focus of the Reimer group is to understand the influence of diet on our microbiome and how we can use dietary interventions to improve gut microbiota composition and function in chronic disease. The Reimer lab has pioneered research in the use of prebiotics to prevent and treat metabolic diseases such as obesity, fatty liver disease and diabetes. In rodents, the lab is examining the following:
Influence of maternal diet during pregnancy and lactation on shaping the microbiota of mother and offspring and the resultant obesity risk of the offspring. Maternal factors currently under investigation include prenatal and early postnatal antibiotic exposure, maternal artificial sweetener consumption, maternal prebiotic fiber intake, and early postnatal milk oligosaccharide intake.
Effect of dietary manipulation of the gut microbiota with prebiotics and probiotics (alone and combined) on metabolic health in obesity, fatty liver disease and type 2 diabetes.
Examining the brain – gut microbiota axis in early postnatal life with implications for depression and anxiety.
Influence of paternal (father's) diet on offspring metabolism later in life.
Identifying optimal dietary patterns (rich in a variety of dietary fibers) to promote gut microbiota health.
In human clinical studies, the group is currently focused on determining whether prebiotics can improve gut microbiota and disease management in adults with non-alcoholic fatty liver disease as well as examining whether prebiotics can reduce pain and improve physical function in adults with knee osteoarthritis and obesity.
The long-term goal of the work is to identify novel nutritional therapies to prevent and treat chronic disease.
UToday article: New study on children shows fibre supplement changes gut bacteria and demonstrates potential intervention for children with overweight or obesity.
Positions
Professor, Associate Dean (Research), Faculty of Kinesiology
Professor, Faculty of Medicine, Department of Biochemistry & Molecular Biology
Full Scientist, Alberta Children's Hospital Research Institute
Professional Affiliations
College of Dietitians of Alberta
The Obesity Society
American Society for Nutritional Sciences
Canadian Nutrition Society
Obesity Canada
Current Grant Support
2020-2021 University of Calgary VPR Catalyst Grant. Harnessing the power of the gut microbiota in cancer survivorship. Principal Investigator: $12,750.
2019-2024 CIHR Team Grant. Canadian Sepsis Research Network: Improving Care Before, During and after Sepsis. Co-applicant: $5,700,000. Principal applicant: Alison Fox-Robichaud.
2019-2021 Weston Family Microbiome Initiative. Role of prebiotic supplementation in reducing inflammation and improving physical function in adults with knee osteoarthritis and obesity. Principal Investigator: $147,800.
2019-2021 The Arthritis Society. New dietary and exercise intervention strategies for patients with obesity and osteoarthritis of the knee: Translating pre-clinical innovation to patient populations. Co-Principal Investigator with Dr. Walter Herzog: $360,000.
2018-2023 CIHR (Canadian Institutes of Health Research) Project Grant. Dietary manipulation of gut microbiota to mitigate early-life antibiotic associated obesity. Principal Investigator: $669,375.
2018-2022 Alberta Children's Hospital Foundation Child Health Grant Program. Determinants of partial remission in type 1 diabetes. Co-Lead: $223,076.
2018-2021 Synder Institute for Chronic Disease and International Microbiome Centre. Diabetes and the gut microbiome. Principal Investigator: $200,000.
2016-2021 NSERC (Natural Sciences & Engineering Research Council) Discovery Grant. Mechanisms by which early life nutritional factors program postnatal metabolism. Principal Investigator: $280,000.
Lab Personnel
Kristine Lee, Technician
Erin Noye Tuplin, Postdoctoral Fellow
Weilan Wang, Postdoctoral Fellow
Rafael Fortuna, Postdoctoral Fellow
Fatima Chleilat, PhD student
Nicole Cho, PhD student
Dana Lowry, PhD student
Emily Macphail, PhD student
Kate Sales, MSc student
Kara Sampsell, MSc student
Participate in Research Studies
For a list of ongoing research studies and details around participation please consult the University of Calgary research participation website and enter Raylene De Bruyn into the search tab.
Publications
For a list of publications, please see CV above.