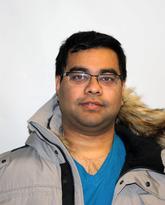 Ifaz Haider
Postdoctoral Scholar
Faculty of Kinesiology
PhD - Mechanical Engineering
Carleton University
BA - Aerospace Engineering
Carleton University
Research and teaching
Movement Science and Musculoskeletal Health
Research interests
Haider's doctoral work focused on developing and validating computer simulations of osteoporotic hip fracture. His current work focuses on developing novel techniques for medial image analysis and computer simulation, in order to study a wide range of musculoskeletal diseases.
Supervisor
Dr. Brent Edwards, PhD
Biography
Ifaz arrived at the University of Calgary in January 2017, after earning a bachelors degree in Aerospace Engineering and a Doctorate in Mechanical Engineering, both from Carleton University.