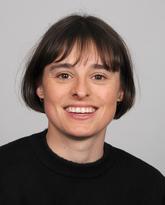 Fransiska Marie Bossuyt
Postdoctoral Scholar
Faculty of Kinesiology
PhD – Health Sciences and Biomechanics
University of Luzern, CH, 2019
MSc – Sport and Clinical Biomechanics
Liverpool John Moores University, UK, 2014
MSc – Physical Education and Movement Sciences
Physical Activity, Fitness, and Health University of Ghent, BEL, 2013
Research and Teaching
Movement science and injury prevention
Biomechanics
Fatigue
Muscle and tendon health
Joint loading
Spinal cord injury
Wheelchair propulsion
Research Interests
Bossuyt's research focusses on risk factors and preventive measures of non-traumatic musculoskeletal injuries by (1) investigating response to loading and (2) estimating loading.
Bossuyt has studied these mechanisms by means of a fatigue model in athletes and patients in the lower- and upper limbs. She is especially interested in understanding the development of soft-tissue injuries by studying failure properties and the functional capacity of muscles and tendons and to apply this knowledge to improve injury prevention.
She gained expertise into mechanisms of fatigue by investigating cardio-respiratory, metabolic, and biomechanical measures. She studied adaptations of the musculoskeletal system in interaction with the environment (e.g., assistive technology) by using experimental techniques including motion analyses, force measurements, electromyography, and ultrasound imaging.
Publications
Bossuyt FM, Boninger ML, Cools A, Hogaboom N, Eriks-Hoogland I, Arnet U. Changes in supraspinatus and biceps tendon thickness: Influence of fatiguing propulsion in wheelchair users with spinal cord injury. Spinal Cord (2020) DOI: 10.1038/s41393-019-0376-z
Bossuyt FM, Arnet U, Cools A, Rigot S, de Vries W, Eriks-Hoogland I, Boninger ML. Compensation strategies in response to fatiguing propulsion in wheelchair users: Implications for shoulder injury risk. Am J Phys Med Rehabil (2020) DOI: 10.1097/PHM.0000000000001267
Bossuyt FM, Hogaboom NS, Worobey LA, Koontz AM, Arnet U, Boninger ML. Start-up propulsion biomechanics changes with fatiguing activity in persons with spinal cord injury. J Spinal Cord Med (2020) DOI: 10.1080/10790268.2019.1582603
Bossuyt FM, Arnet U, Brinkhof MWG, Eriks-Hoogland I, Lay V, Sunnaker M, Hinrichs T, for the SwiSCI study group. Shoulder pain in the Swiss spinal cord injury community: Prevalence and associated factors. Disabil Rehabil (2018) DOI: 10.1080/09638288.2016.1276974
Galle S, Derave W, Bossuyt FM, Calders P, Malcolm P, De Clercq D. Exoskeleton plantarflexion assistance for elderly. Gait & Posture (2017) DOI: 10.1016/j.gaitpost.2016.11.040
Bossuyt FM, García-Pinillos F, Raja Azidin RMF, Vanrenterghem J, Robinson MA. The utility of a high-intensity exercise protocol to prospectively assess ACL injury risk. Int J Sports Med (2016) DOI: 10.1055/s-0035-1555930
For an updated list see google scholar.