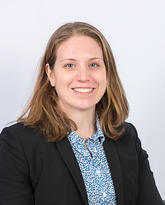 Meghan McDonough
Professor
Faculty of Kinesiology
PhD - Human Kinetics, Sport and Exercise Psychology
University of British Columbia, 2006
MS - Human Kinetics, Sport and Exercise Psychology
University of British Columbia, 2002
BS Great Distinction - Kinesiology
University of Saskatchewan, 2000
Research and teaching
Psychosocial Aspects of Health & Sport
Health & Exercise Psychology
Social Relationships in Physical Activity
Motivation
Stress, Coping and Emotion
Aging
Physical Activity for Cancer Survivors
Positive Youth Development
Research interests
Dr. Meghan McDonough, PhD, leads the Relationships and Exercise Lab. Her research examines the role of social relationships in physical activity and health behavior. Her research is informed by theoretical and empirical work on emotional and motivational processes, coping with stress, posttraumatic growth, and self-perceptions. Her research has examined these questions in a variety of populations, with a particular focus on clinical populations, chronic disease, and underserved or marginalized populations across the lifespan.
Recruiting for Study
Adults 55+ needed for new study
When in-person services and recreation programs closed during the COVID-19 pandemic, older adults decreased their physical activity levels and the social connections that went along with them. Now, as recreation programs are opening again, we want to recruit 2,000 adults 55+ years of age to see how their activity levels, social connections and wellbeing might change. Are you interested? Learn more about the study and sign up here.
Current Work
Collaborative Physical Activity Interventions for Older Adults
McDonough is examining social support processes to promote physical activity among older adults, and social outcomes from physical activity participation. Her current work focuses on how interpersonal mechanisms support physical activity adoption and maintenance, and psychological well-being, and how we can enhance the physical activity environment to be supportive and inclusive.
Social Support through Physical Activity for Cancer Survivors
This line of research examines the role of social support and physical activity in the lives of cancer survivors. In particular, McDonough is interested in the role that social relationships play in positive psychological growth and adaptation following the often traumatic experience of cancer, and in facilitating health behaviors, especially exercise. Many of her studies have focused on group programs for cancer survivors, examining social support, physical self-perceptions, posttraumatic growth, motivation, decision-making, stressors, and coping. She is currently conducting a study examining components of social support in physical activity and links to exercise behavior and quality of life.
Physical Activity-Based Positive Youth Development for Underserved Youth
McDonough has conducted several studies examining links between social relationships formed in physical activity-based positive youth development programs and psychological, academic, and health and risk behavior outcomes. Her previous research has primarily focused on youth living in poverty. She is currently part of an interdisciplinary team examining the effects of playground interventions on physical activity and social interactions through activity among youth.
Physical Activity and Movement Interventions for Individuals with Parkinson's Disease
McDonough has examined the role that physical activity plays in the life of individuals with Parkinson's disease, including psychological and social experiences of participants in physical activity programs and movement interventions, as well as how psychological effects of exercise are integrated with outcomes in other domains.
Awards
2021 - Lynn McIntyre Outstanding Service Award. For significant contributions of academic leadership, community outreach, and trainee mentoring to the O'Brien Institute for Public Health and its initiatives.
2019 - Reviewer of the Year - Sport, Exercise, and Performance Psychology
2018 - Pittu Laungani Best Paper Prize - International Journal of Health Promotion
2016 - Mentor of the Year - Louis Stokes Alliance for Minority Participation
2012 - Graduate Teaching Award - Department of Health & Kinesiology, Purdue University
2011 - Teaching for Tomorrow Fellowship - Purdue University
2006 - Student Paper Award - North American Society for the Psychology of Sport and Physical Activity
2006 - Franklin Henry Young Scientist Award - Canadian Society of Psychomotor Learning and Sport Psychology
2004 - Senior Graduate Fellowship - Michael Smith Foundation for Health Research
2003 - Canada Doctoral Fellowship - Social Sciences and Humanities Research Council of Canada