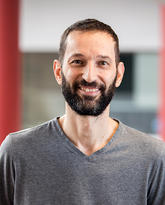 Juan Murias
Associate Professor
Faculty of Kinesiology
Post-doctoral Fellowship - Intergrative Physiology of Exercise (vascular control)
University of Western Ontario, 2013
PhD - Integrative Physiology of Exercise
University of Western Ontario, 2010
MS - Exercise Physiology
McGill University, 2006
MSc - Exercise Physiology
National University of General San Martin, 2003
Research and teaching
Exercise Physiology
Exercise Training Interventions
Research interests
The Murias group is interested in determining the most effective exercise training programs for promoting health as well as for improving performance. The main research goal is to use of exercise training interventions as "medicine" to prevent or alleviate the detrimental effects of aging and disease on cardiovascular function. Although the group examines both central and peripheral cardiovascular adaptations to exercise training, a current direction of the work focuses on the vascular side of these adaptive responses. Specifically, they are interested in the role of the endothelium in the control and distribution of blood flow and the effects of endurance training exercise in preventing or alleviating the age-related reduction in endothelium-dependent vasodilation, and the associated limitation in O2 transport to the sites of metabolic need. Studies have reported that individuals who regularly perform endurance exercise or those who completed a 3-month endurance training program or those chronically trained (recreational and elite athletes) demonstrate a greater endothelium-mediated vasodilatory response compared to their sedentary counterparts. However, it is presently unclear what the ideal exercise dose-response is to produce favorable changes in endothelial responsiveness in different populations (ranging from young healthy to older individuals as well as clinical populations).
Some of the measures commonly assessed in the Murias laboratory include:
Breath-by-breath VO2: to study of the dynamic responses of oxygen utilization during exercise transitions within the moderate-intensity domain, as well as during maximal intensity exercise.
Near-infrared spectroscopy (NIRS): to estimate blood oxy- and deoxygenation within the area of NIRS "inspection". The use of this technique combined with measurements of VO2 can provide an estimate of the matching of muscle O2 delivery to O2 utilization (as interpreted by the deoxy-hemoglobin/VO2 ratio). As well, we are currently exploring the use NIRS-derived data to obtain a surrogate measure of flow-mediated vasodilation
Doppler Ultrasound: to estimate blood flow, vascular conductance and flow mediated dilation responses in the exercise limb. Additionally, this technology is used to obtain morphological measures to derive the lumen-to-wall ratio in different arteries.
Cardiac output using open circuit C2H2: to obtain measures of cardiac output during different type of exercise. This measure combined with measures of heart rate and VO2 permits deriving estimations of stroke volume as well as systemic arterial-venous O2 difference.
Minimally invasive blood sampling: to measure blood gases as well as to specify exercise intensity and also to derive markers of oxidative stress and inflammation status so that some mechanistic aspects controlling adaptations to exercise training can be studied.
Publications
See the list of publications on PubMed.