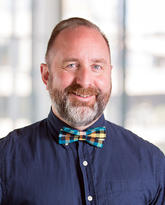 William Bridel
Assistant Professor
Faculty of Kinesiology
PhD - Socio-Cultural Studies of Sport, Physical Activity and Health
Queen's University, 2010
MA - Socio-Cultural Aspects of Physical Activity and Health (award nominee: outstanding thesis)
University of Ottawa, 2006
BA (Dean's List) - Sociology
York University, 1997
Contact information
Courses
Research and teaching
Psychosocial Aspects of Health & Sport
Gender, Sexuality & Sport
Bullying in Sport
Sport-Related Pain & Injury
Research interests
Bridel's general research is on socio-cultural aspects of the body, sport, physical activity and health. Specifically, he investigates: gender, sexuality and sport; bullying; and sport-related pain and injury, including qualitative inquiries into sport-related concussion. Theoretically, Bridel's work is informed primarily by Foucauldian perspectives of the body, poststructuralist gender and queer theories. He employs a wide variety of qualitative methods including: interviews, focus groups, content analysis and autoethnography (i.e., critical autobiography), in his projects.
Recent research projects by Bridel and his students includes:
(1) LGBTQI2S inclusion in sport including national sport organization policy review;
(2) interviews with LGBTQI2S athletes, coaches, officials, administrators and a survey of a national sport organization's membership;
(3) exploration of student-athletes' experiences of concussion and recovery;
(4) examination of "intro to sport" programs servicing newcomers to Canada;
(5) understandings of risk and gender in alpine environments; and
(6) students' and student-athletes' constructions of health.
The overarching goal is to help make sport and physical activity more inclusive and safer for all participants, by addressing the culture of sport itself as well as the influence of social norms, beliefs, and values on sport and people's experiences in sport.
Awards
Teaching Excellence Awards - University of Calgary
2017 - Insight Development Grant - Social Science and Humanities Research Council