Juan Murias, PhD (@MuriasLab)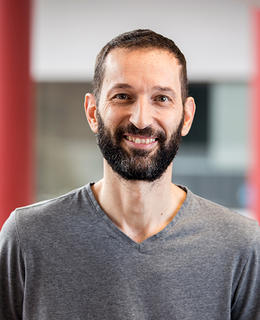 Associate Professor
Faculty of Kinesiology
Media contacts
Leanne Yohemas - Director, Communications and Marketing, Faculty of Kinesiology.
---
Background
Educational Background
Postdoctoral Fellowship Vascular control, University of Western Ontario, 2013
PhD Integrative Physiology of Exercise , University of Western Ontario, 2010
MSc Exercise Physiology, McGill University, 2006
MSc Exercise Physiology, Universidad Nacional de General San Martin, 2003
Bachelor of Education Teaching, Instituto Nacional de Educacion Fisica "E. R. Brest", 1996
Research
Areas of Research
Exercise Training Interventions
Activities
Dr. Murias' Exercise and Aging Laboratory is interested in determining the most effective exercise training programs for promoting cardiovascular health and improving endurance performance. The main research goal is to use exercise training interventions as "medicine" to prevent or alleviate the detrimental effects of aging and disease on cardiovascular function.
The laboratory examines:
Acute adjustments and chronic adaptations within the O2 transport system to endurance exercise. This is achieved by evaluating both central and peripheral cardiovascular responses. Specifically, measures blood volume and cardiac output, micro- and macrovascular function, and muscle O2 extraction that affect O2 provision and utilization are evaluated using an integrative and minimally invasive approach.

The role of appropriately quantifying the metabolic stress of the endurance exercise on the acute adjustments and chronic adaptations within the cardiovascular system. Recent work has demonstrated that traditional approaches to exercise prescription fail to homogenize the stimulus, which often results in the presence of the so-called "non-responders" to endurance training. By using adequate exercise prescription models, all participants can obtain beneficial adaptations to endurance training.
Commonly used assessments in the Exercise and Aging Laboratory include:
Breath-by-breath VO2: to study of the dynamic responses of oxygen utilization during exercise transitions performed within different intensity domains, as well as during maximal intensity exercise.
 Near-infrared spectroscopy (NIRS): to estimate blood oxy- and deoxygenation within the muscles. The use of this technique combined with measurements of VO2 provides an estimate of the matching of muscle O2 delivery to O2 utilization. Additionally, the use of NIRS-derived data following a period of blood flow occlusion is used to understand microvascular function.

Doppler Ultrasound: to estimate blood flow, vascular conductance and flow mediated dilation responses. Additionally, this technology is used to obtain morphological measures to derive the lumen-to-wall ratio in different arteries.

Cardiac output using open circuit C2H2 technique: to obtain measures of cardiac output during different type of exercise. This measure combined with evaluations of heart rate and VO2 permits deriving estimations of stroke volume as well as systemic arterial-venous O2 difference.
Blood volume and hemoglobin mass: to determine central components that affect the delivery of O2 through the circulation.

Minimally invasive blood sampling: to measure blood gases, specify exercise intensity, and to derive markers of oxidative stress and inflammation status so that mechanistic aspects controlling adaptations to exercise training can be studied.
Participation in university strategic initiatives
Courses
| Course number | Course title | Semester |
| --- | --- | --- |
| KNES 203 LEC 01 01 | Activity: Hlth, Fitness & Perf | 2021 |
Awards
GREAT supervisor award,

The University of Calgary.

2018

Outstanding Reviewer Award,

Applied Physiology, Nutrition and Metabolism.

2016

Award in recognition to the development of scientific exchange and support. ,

University of Flores, Buenos Aires, Argentina.

2015