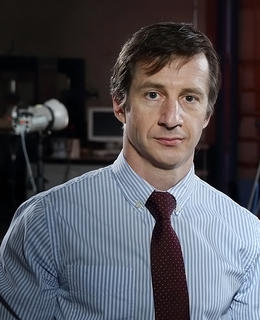 Professor
Faculty of Kinesiology
Media contacts
Leanne Yohemas - Director, Communications and Marketing, Faculty of Kinesiology.
---
Background
Educational Background
Doctor of Philosophy Mechanical Engineering, University of Calgary, 1996
Biography
Memberships and societies
International Society of Biomechanics
Canadian Society for Biomechanics
International Society of Biomechanics Technical Group on Functional Footwear
European College of Sport Science
International Society of Biomechanics in Sports
Association of Professional Engineers, Geologists and Geophysicists of Alberta
Research
Areas of Research
Biomechanics
Human locomotion
Sport performance
Sport injury
Activities
Dr. Darren Stefanyshyn, PhD, tunes the properties of sport equipment to specific athlete characteristics to maximize the athlete's performance and minimize the risk of injury. This includes identifying methods of matching sport equipment to individual athletes. 
His research group also identifies potential injury factors such as global loading characteristics associated with ankle and knee sport related injuries as well as developing an understanding of the role played by equipment, for example  the role of sport shoe and surface characteristics in lower extremity joint loading.
Participation in university strategic initiatives
Courses
| Course number | Course title | Semester |
| --- | --- | --- |
| KNES 466 LAB 01 B01 | Biomechanics Research Project | 2021 |
| KNES 363 LEC 01 01 | Biomechanics of Biol Materials | 2021 |
| KNES 466 LAB 01 B01 | Biomechanics Research Project | 2020 |
| KNES 70402 LAB 01 B01 | Directed Study | 2020 |
Awards
Faculty of Graduate Studies "Great Supervisor Award",

2014

Biomedical Engineering Outstanding Supervisor Award,

2013

Nike Award for Athletic Footwear Research ($25,000 US),

2011

American Society of Biomechanics Jim Hay Memorial Award,

2010
Publications
Sports Surfaces and Performance.

Darren J Stefanyshyn; *Wannop J. Routledge. 31-46. (2015)

Ice skating – speed skating, ice hockey, figure skating.

A Gollhoffer; E Mueller; T Edgecombe; Darren Stefanyshyn. Springer-Verlag. 341-363. (2009)

Limb Force Generation as a Limiting Factor for Maximum-effort Acceleration Performance.

Darren Stefanyshyn. Springer. 281-292. (2015)
Validation of a mechanical method for golf footwear stability measurement..

G Luo; P Stergiou; Darren Stefanyshyn. (2009)

Structural parameters of the foot and the biomechanics of walking with and without wedged insoles.

Jeremy LaMothe; Patel; Wiley; Victor Lun; Darren Stefanyshyn. (2017)

Influence of the composition of artificial turf on rotational traction and athlete biomechanics.

J.W. Wannop; R. Madden; A. Killick; D.J. Stefanyshyn. (2017)

Pain reduction in runners with PFPS is predicted by absolute change in knee angular impulse.

R N Humble; *Lewinson RT; *Worobets JT; James Preston P Wiley; Darren J Stefanyshyn. (2012)

Biomechanics of wedged footwear: implications for treatment of patellofemoral pain syndrome..

Humble R.N.; Stefanyshyn D.J.; *Worobets J.T.; *Fukuchi C.A.; *Lewinson R.T.; Wiley J.P.. (2012)

How do ground reaction impact forces respond to changes in sub maximal gait speed?.

deDavid; Carpes; *Da Rocha; Darren Stefanyshyn. (2015)

Structural parameters of the foot and the biomechanics of walking with and without wedged insoles.

A. Killick; J. M. LaMothe; J. P. Wiley; R. Madden; V.M.Y. Lun; R. T. Lewinson; J. W. Wannop; D.J. Stefanyshyn; C. Patel. (2017)

The influence of ankle strength exercise training on running injury risk factors.

D. Stefanyshyn; Nigg; B.M.; J. Baltich; C. Emery. (2015)

Can compression aid in maintaining jump performance over a fatiguing protocol?.

Darren Stefanyshyn. (2015)

Patellar tendon stiffness in male adolescent basketball players.

O. Bruce; J. Wannop; D. Stefanyshyn; W.B. Edwards; C. Firminger. (2019)

Effect of FIR athletic apparel on oxygen consumption during exercise.

Darren J Stefanyshyn; E R Skolnik; *Worobets JT. (2013)

A combined helical axis and Euler angle approach to calculate the foot torsion axis..

E Graf; Darren Stefanyshyn. (2010)

The effects of an unstableshoe on energy expenditure and knee and ankle joint moments during walking inwomen.

*Arakaki Fukuchi; Darren Stefanyshyn. (2013)

Patellar tendon stiffness in male adolescent basketball players.

O. Bruce; W.B. Edwards; D. Stefanyshyn; C. Firminger; J. Wannop. (2017)

The effect of upper leg compression and hip joint stiffness on sprinting and jumping performance..

Darren Stefanyshyn. (2013)

Surface construction alters patellar tendon strains in jumping. .

D. Stefanyshyn; C. Firminger; J. Wannop; W.B. Edwards; O. Bruce. (2019)

Biomechanical and gender differences between single-legged and two-legged running vertical jumps.

Darren Stefanyshyn. (2015)

Surface construction alters patellar tendon strains in jumping. .

D. Stefanyshyn; W.B. Edwards; C. Firminger; J. Wannop; O. Bruce. (2017)

Sport biomechanics: equipment and performance..

Darren Stefanyshyn. (2010)

The long arm standardized goniometer (LSG) versus non standardized goniometric methods in measuring the resting foot angle from prone position among healthy individuals..

Darren Stefanyshyn; Al Tunaiji H; P Wiley; Nicholas George H. Mohtadi. (2010)

Torsion axis during barefoot and shod lateral jab..

*Graf E; Darren Stefanyshyn. (2011)

Effect of cycling experience and leg preference on mechanical efficiency..

F Carpes. (2009)

Alterations in knee laxity during the menstrual cycle change muscle activation patterns during selected athletic movements..

Simon K Park; Darren Stefanyshyn; J Kupper; C Fukuchi. (2010)

Influence of gearing footwear on performance and biomechanical injury risk.

D.J. Stefanyshyn; R. Madden; J.W. Wannop; A. Killick. (2017)

Influence of foot arch properties on running performance..

K. Burkhardt; D.J. Stefanyshyn; Z.B. Barrons; E.S. Cooke; J.W. Wannop; S.K. Park. (2019)

Required traction during common rugby movements..

D. Ura; E. Cooke; Z.B. Barrons; D.J. Stefanyshyn; K. Bill; J.W. Wannop. (2019)

Joint moments during walking and running at different speeds..

Darren Stefanyshyn; P Stergiou; de David A. (2010)

Tendon and muscle fascicle length changes during running with compliant and stiff footwear cushioning.

M. Esposito; D.J. Stefanyshyn; J.W. Wannop. (2019)

Tibial accelerations in two different age groups of runners.

J. Ryu; S. Ryu; J. Shin; S.K. Park; D.J. Stefanyshyn; J. Kim; S. Yoon; H. Gil. (2019)

Footwear traction and joint loading..

J Wannop; Darren Stefanyshyn; J Worobets. (2009)

Utilized traction and lower extremity resultant joint moments during curve running..

*Luo G; Darren Stefanyshyn. (2011)

Correlations between biomechanical variables and comfort ratings during high heeled gait..

B Nigg; Darren Stefanyshyn; J Worobets. (2009)

Effect of normal load, speed and moisture on footwear traction..

*Luo G; *Wannop J; Darren Stefanyshyn. (2011)

Biomechanics of running with a commercially available non-custom athletic footwear insole: implications for preventing and treating running injuries.

*Worobets JT; *Lewinson RT; Darren J Stefanyshyn. (2015)

The Influence of Footwear with a Small Integrated Lateral Wedge on Knee Joint Loading During Walking..

*Fukuchi C; *Wannop J; *Worobets J; Darren Stefanyshyn. (2011)

Footwear comfort and running performance..

Darren Stefanyshyn; J Worobets; P Stergiou; B Nigg; G Luo. (2009)

Basic differences in running style between North American and Japanese runners..

Jun Kawakami; Darren Stefanyshyn; Stergiou. (2011)

The influence of soccer cleat design on joint moments..

Simon K Park; Darren Stefanyshyn. (2009)

Evaluation of shoes that estimate metabolic cost during walking..

F Carpes; J Worobets; Darren Stefanyshyn. (2009)

Torsion of the foot during a lateral jab using a modified helical axis approach..

*Graf E; Darren Stefanyshyn. (2011)

Friction and drag measurements in the sport of bobsleigh..

R Thompson; Darren Stefanyshyn; *Poirier L; E Lozowski; S Maw. (2011)

The influence of running shoe traction on performance in a short duration maximal effort running drill..

*Worobets J; *Wannop J; *Hung S; Darren Stefanyshyn; *Panizzolo F. (2011)

The influence of elastic athletic apparel on hip joint mechanics and ground reaction impulses during a sprint start..

G Luo; J Worobets; Darren Stefanyshyn; B Wannop. (2009)

Footwear traction and lower extremity non-contact injury..

*Wannop J; Darren Stefanyshyn; *Luo G. (2011)

Biomechanical control conditions for footwear insole and orthotic research.

*Lewinson RT; DJ Stefanyshyn; *Worobets JT. (2014)

Traction properties of footwear in Canadian high school football..

B Wannop; G Luo; Darren Stefanyshyn. (2009)

Footwear traction at different areas on artificial and natural grass fields..

*Wannop J; Darren Stefanyshyn; *Luo G. (2011)

Dr. Scholl's Active Series footwear insoles for running injuries: a biomechanical analysis of manufacturers claims.

*Worobets JT; *Lewinson RT; Darren J Stefanyshyn. (2014)

Mechanically available traction as a limiting factor to curve sprinting performance..

Darren Stefanyshyn; *Luo G. (2011)

Prediction of patellar tendinopathy using Weibull analysis.

Darren Stefanyshyn; J.W. *Wannop; W. B. Edwards; D.J.. (2016)

Effects of banking on lower extremity kinematics and kinetics..

Darren Stefanyshyn; *Luo G; *Wannop J. (2011)

Does maximal hip abductor strength affect the external knee adduction moment? Implications for medial knee osteoarthritis.

Darren J Stefanyshyn; *Worobets JT; *Lewinson RT. (2014)

Athlete-equipment interaction.

D. Stefanyshyn. (2016)

Repeatability of a modified finite helical axis method: within and between shoes..

Darren Stefanyshyn. (2013)

Effects of cryotherapy on lower extremity joint biomechanics during running.

Darren Stefanyshyn. (2013)

Hormone responses, knee joint laxity and knee joint moments during movement in healthy females..

Simon K Park; Darren Stefanyshyn; David Arthur Hart; B Ramage; Janet Lenore Ronsky. (2009)

Biomechanical aspects of badminton shoe during a lunge..

Simon B Park. (2009)

Wedged footwear influences on mechanical risk factors for running injury..

*Lewinson R; *Worobets J; Darren Stefanyshyn. (2011)

Effects of artificial turf on performance and ground contact kinetics during a sprint acceleration.

Darren Stefanyshyn. (2013)

Running shoe cushioning properties can influence oxygen consumption.

Darren Stefanyshyn; Tomaras. (2013)

Fresh approach to bobsleigh runner design..

R Thompson; Poirier L; Darren Stefanyshyn; S Maw. (2009)

Forefoot bending stiffness, running economy and kinematics during over-ground running.

Darren Stefanyshyn. (2015)

Biomechanical running gait adaptations in older runners.

R. Fukuchi; Reed Ferber; L. Sterling; R; M. Duarte; D. J. Stefanyshyn. (2013)

Joint loading differences between newly installed and worn artificial turf during a cuttingmovement..

Darren Stefanyshyn. (2013)

The effects of altered forefoot bending and torsional stiffness on the biomechanics of curved running.

Darren Stefanyshyn. (2015)

Altering knee abduction angular impulse as a treatment for patellofemoral pain: a 6-week randomized controlled trial..

*Lewinson R; *Worobets J; R Humble; Darren Stefanyshyn; James Preston Wiley. (2012)

EMG and Kinematics of slide board skating during a maximum incremental test.

Darren Stefanyshyn. (2015)

Postural sway following cryotherapy in healthy adults.

Stefanyshyn D.J.. (2013)

Effect of a compression garment on kinematics of jump-landing tasks in female recreational athletes and physically active women.

M. A. deBritto; A. Lemos; D. Stefanyshyn; Carpes; C do Santos; F.. (2015)

Physiological and electromyography responses during a maximal incremental skating test on slide board.

Darren Stefanyshyn. (2016)

Influence of forefoot bending stiffness on American football performance.

Darren Stefanyshyn; *Wannop J.. (2015)

Effects of strengthening and stretching exercises on running biomechanics in older adults: A randomized controlled trail..

R. Fukuchi; D. Stefanyshyn; L. Stirling; Reed Ferber; R. (2015)

The influence of wedged insoles on knee and ankle moments and angular impulses during walking..

Darren Stefanyshyn; *Fukuchi C; *Lewinson R; *Worobets J. (2012)