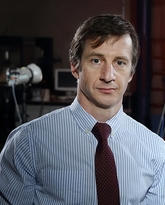 Darren Stefanyshyn
Professor
Faculty of Kinesiology
PhD - Mechanical Engineering
University of Calgary, 1996
Research and teaching
Movement Science and Musculoskeletal Health:
Biomechanics
Human locomotion
Sport performance
Sport injury
Research interests
Dr. Darren Stefanyshyn, PhD, tunes the properties of sport equipment to specific athlete characteristics to maximize the athlete's performance and minimize the risk of injury. This includes identifying methods of matching sport equipment to individual athletes.
His research group also identifies potential injury factors such as global loading characteristics associated with ankle and knee sport related injuries as well as developing an understanding of the role played by equipment, for example valuable insight was gained on the role of sport surface characteristics as well as shoe upper stiffness in lower extremity joint loading.
Biography
Memberships and societies
International Society of Biomechanics
Canadian Society for Biomechanics
International Society of Biomechanics Technical Group on Functional Footwear
European College of Sport Science
International Society of Biomechanics in Sports
Association of Professional Engineers, Geologists and Geophysicists of Alberta
Awards
American Society of Biomechanics Jim Hay Memorial Award - Jim Hay Memorial
Award for Athletic Footwear Research - Nike
Golf Digest Equipment and Technology Research Award - Golf Digest
Roger Jackson Centre Faculty Contribution Award - Roger Jackson Centre
Human Performance Laboratory Faculty Leadership Award - Human Performance Laboratory