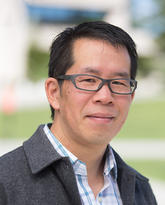 Art Kuo
Professor
Faculty of Kinesiology
Postdoctoral Fellowship - Human Balance
Neurological Sciences Institute in Portland, Oregon
PhD - Mechanical Engineering
Stanford University
BSc - Electrical Engineering
University of Illinois at Urbana-Champaign
Research and teaching
Movement Science & Musculoskeletal Health
Biomechanics
Neuromotor Control
Robotics
Biomedical Engineering
Joint Mechanics
Prosthetics
Biomechanics
Dr. Art Kuo, PhD, heads up the Kuo Research Group in the Human Performance Lab within the Faculty of Kinesiology. He is interested in the biomechanics of human locomotion, or how people move. He uses engineering principles to bridge mechanics and biology. The team focuses mainly on understanding how movement occurs so they can work to improve mobility for the elderly, and for those with strokes and disabilities. For example, the team are studying and developing smart prosthetics to allow lower limb amputees greater mobility - especially on uneven ground. They also create wearable sensors to assess the balance in older adults, and find ways to improve their walking efficiency, motor control and co-ordination.
Positions
Tier l Canada Research Chair in Neuromusculoskeletal Biomechanics
Biography
Prior to becoming a professor in the Faculty of Kinesiology at the University of Calgary in 2016, Kuo was at the University of Michigan for 22 years, where he was a professor in the Department of Mechanical Engineering and the Director of the Human Biomechanics and Control Lab.
Kuo serves as an advisor for international biomedical and robotics initiatives and is the founder of the interdisciplinary international conference Dynamic Walking, drawing together experts in legged locomotion, manipulation and behaviour.
For more about Kuo's current research, read University of Calgary articles in UToday:
Kinesiology researchers create new generation of smart prosthetics.
Six premier Government of Canada Research Chairs awarded to UCalgary scholars.
Publications
Selected publications
1. Kuo AD. Energetics of actively powered locomotion using the simplest walking model. Journal of Biomechanical Engineering. 2002 Feb;124(1):113-20.
2. Bauby CE, Kuo AD. Active control of lateral balance in human walking. Journal of Biomechanics. 2000 Nov;33(11):1433-40.
3. Kuo AD. Stabilization of lateral motion in passive dynamic walking. International Journal of Robotics Research, 1999;18(9):917-930.
4. Kuo AD, Donelan JM, Ruina A. Energetic consequences of walking like an inverted pendulum: step-to-step transitions. Exercise and Sport Sciences Reviews. 2005 Apr;33(2):88-97.
5. Donelan JM, Kram R, Kuo AD. Mechanical work for step-to-step transitions is a major determinant of the metabolic cost of human walking. Journal of Experimental Biology. 2002 Dec;205(Pt 23):3717-27.
6. Kuo AD. An optimal control model for analyzing human postural balance. IEEE Transactions on Biomedical Engineering. 1995 Jan;42(1):87-101.
7. Donelan JM, Li Q, Naing V, Hoffer JA, Weber DJ, Kuo AD. Biomechanical energy harvesting: generating electricity during walking with minimal user effort. Science. 2008 Feb 8;319(5864):807-10.
8. Donelan JM, Kram R, Kuo AD. Simultaneous positive and negative external mechanical work in human walking. Journal of Biomechanics. 2002 Jan;35(1):117-24.
9. Donelan JM, Kram R, Kuo AD. Mechanical and metabolic determinants of the preferred step width in human walking. Proceedings of the Royal Society Biological Sciences. 2001 Oct 7;268(1480):1985-92.
10. Park S, Horak FB, Kuo AD. Postural feedback responses scale with biomechanical constraints in human standing. Experimental Brain Research. 2004 Feb;154(4):417-27.
Awards
2017 - Canada Research Chair in Neuromusculoskeletal Biomechanics (For biomedical engineering advances to address mobility challenges in amputees and the elderly).
Benno Nigg Chair in Biomechanics, Mobility and Longevity