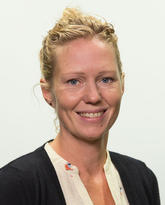 Sofia Backåberg
Postdoctoral Scholar
Faculty of Kinesiology
PhD - Caring Science, Department of health and Caring Sciences
Linnaeus University, Sweden, 2016
MS - Physiotherapy, Department of Neuroscience
University of Uppsala, Sweden, 2008
BS - Physiotherapy, Department of Neuroscience
University of Uppsala, Sweden, 2003
Research and teaching
Movement science & musculoskeletal health
Functional mobility assessment and self-assessment
Senior population health
Interactive video feedback
Movements through daily living
Research interests
Backaberg's research is about how to support movement learning and assessment of functional mobility in daily living amongst the elderly with support of interactive video feedback and multimedia. She is also involved in research projects in patient activation, self-care at home and sedentary behaviour amongst the elderly.
Supervisor: Larry Katz
Publications
Backåberg, S, Brunt, D, Rask, M, Gummesson, C. Experiences of using personal video feedback modelling during a long-term process of movement awareness and learning – a hermeneutical study. European Journal of Physiotherapy (2019) DOI: 10.1080/21679169.2019.1635639
Backåberg, S. Video-supported Interactive Learning for Movement Awareness: a learning model for the individual development of movement performance among nursing students. (2016) Doctoral Thesis, Linnaeus University Press, Växjö.
Backåberg, S, Rask, M, Gummesson, C, Brunt, D. Video-based feedback combined with reflective enquiry - an interactive model for movement awareness among nursing students. Nordic Journal of Digital Literacy. (2015) 10(4), 246-264.
Backåberg, S, Gummesson, C, Brunt, D, Rask, M. Is that really my movement? – Students' experiences of a video-supported interactive learning model for movement awareness. International Journal of Qualitative Studies on Health and Well-being, (2015) 10.
Backåberg, S, Rask, M, Brunt, D, & Gummesson, C. Impact of musculoskeletal symptoms on general physical activity during nursing education. Nurse Education in Practice, (2014) 14(4), 385-390.