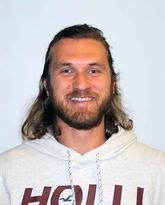 Rafael Fortuna
Postdoctoral Scholar
Faculty of Kinesiology
PhD - Biomechanics
University of Calgary, 2016
Research and teaching
Biomechanics and Nutrition
Biomechanics
Neuromuscular Physiology
Obesity and Knee Osteoarthritis
Research interests
Fortuna completed his PhD in Biomechanics at the University of Calgary in 2016 with Dr. Walter Herzog. His research focused on the acute and chronic effects of Botox on the structure and function of rabbit quadriceps muscles. His general research interests include biomechanics, neuromuscular physiology and investigating muscle strength/weakness.
Fortuna recently started a postdoctoral position with Dr. Raylene Reimer and Dr. David Hart. In the Reimer Research Group, he is currently performing a clinical trial designed to determine if prebiotic supplementation can improve knee function and reduce knee pain in adults with obesity and metabolic knee osteoarthritis, with the additional benefit of increasing adherence to exercise programs. This study is based on observations in obese mice where prebiotic supplementation can not only reduce body fat, but also, via changes in intestinal gut microbiota, reduce systemic inflammation and protect joint cartilage.
Participate in a study
Currently taking participants with knee osteoarthritis and obesity. Learn more.
Supervisors
Dr. Raylene Reimer De Bruyn, PhD
Dr. David Hart, PhD
Biography
Rafael enjoys soccer, hiking, mountain biking and climbing. Rafael aims to secure a faculty position in the field of biomechanics/neuromuscular physiology.