Alberta Bike Swap June 17
Join us at the Olympic Oval  as Kinesiology hosts the bike swap event. Want to buy a bike? Doors open at 2:30 p.m.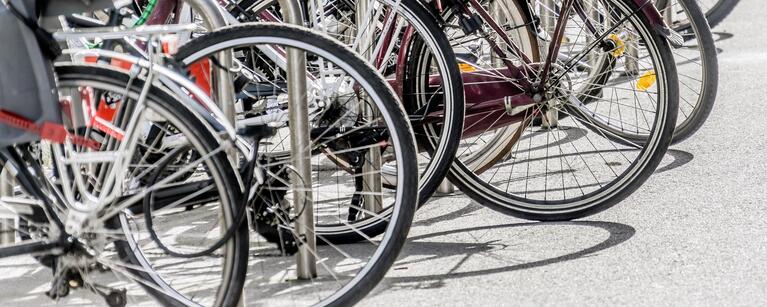 A great way to spend a Saturday!
Bring your family to the Alberta Bike Swap at the Olympic Oval on Saturday, June 17. This is the first time the Bike Swap will be at the University of Calgary hosted by the Faculty of Kinesiology.
Buy, sell or donate a bike. It's easy to sell a bike, just bring the bike to the East Loading Dock at the Olympic Oval between 9 a.m. and 2 p.m. Only want to buy a bike? The sales floor is open between 2:30 and 5 p.m. Get there early! 
All donated bikes will be given to partners, including Cerebral Palsy Kids and Families, Two Wheel View, Bicycles for Humanity, and others. All sale profits will create a student bursary for the Faculty of Kinesiology. You can drop off your donated bike anytime between 9 a.m. and 5 p.m.
University of Calgary parking fees will be in effect.
Parking Lot 10 and 11: $9 day rate, Arts Parkade: $11 day rate. Lot 3 and 3A: Hourly. View our guest map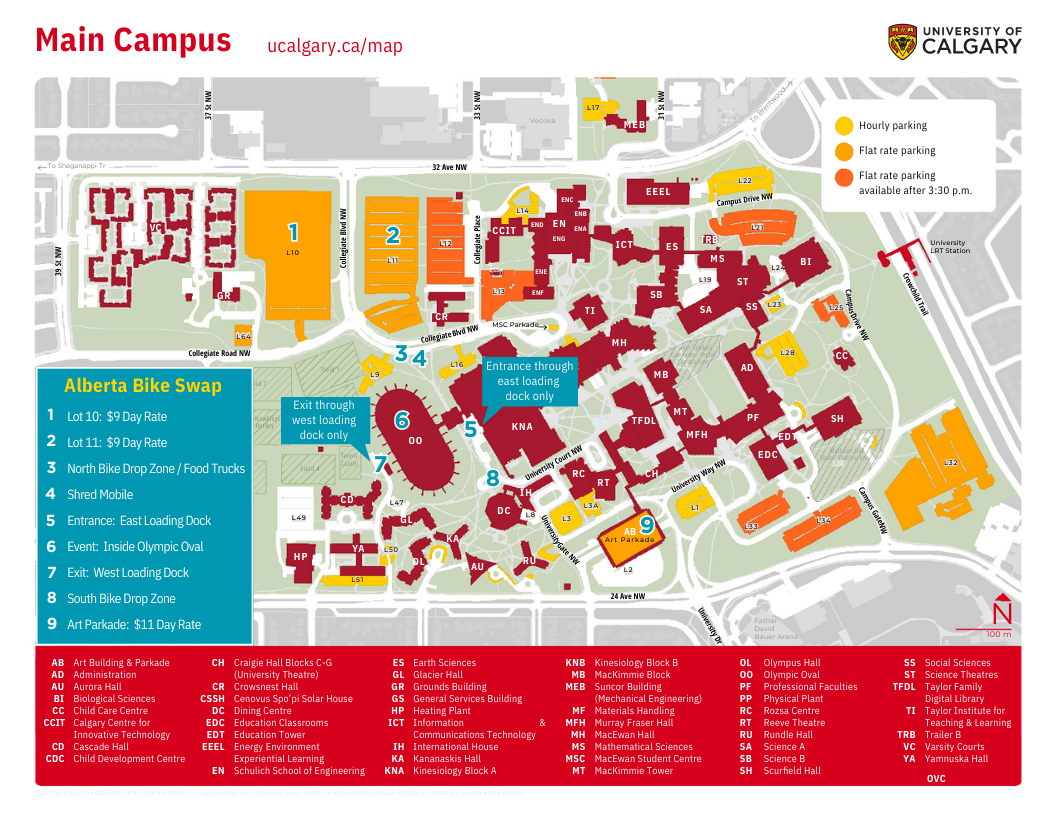 How the swap works
To buy a bike, enter the east entrance of the Olympic Oval. Doors open at 2:30 p.m. Bikes go fast, so don't wait. All bikes on the sales floor have undergone a basic tech check to make sure you don't end up with an unsafe ride, but it is still up to you to get a full technical checkup with a participating bike shop. 
We accept debit, cash, Visa, and MasterCard.
Exit the west side of the Oval. 
Bring your clean, ready-to-ride bike to the east loading dock of the Olympic Oval at the University of Calgary main campus anytime between 9 a.m. and 2 p.m.
You will set the selling price, but we can guide you on this.
We will tech-check your bike and record its serial number.
You will sign an agreement to sell, which tells us where to send the e-transfer or write you a cheque and what to do with your bike in the slim chance that it doesn't sell (>92% sell).
You will pay us a $15 rack fee per bike to put them into the sale, unless you are an AMA member. AMA members get $5 off, so they pay $10 per bike to get their bike into the swap.
You can than go, and we sell your bike for you and send you the cheque or e-transfer the money, less 15%. You can expect your cheque 1-2 weeks after the swap. 
In the rare chance your bike doesn't find a new home, we'll contact you (cell phone is best) and let you know to pick your bike up. We only have the space until the end of the swap. 
Drop off your bike for donation at the east loading dock at the Olympic Oval anytime between 9 a.m. and 5 p.m. on Saturday, June 17.
Thank you for donating a bike at our event. Alberta Bike Swap serves as a conduit for dozens of groups that will rebuild your bike for re-use and repurposing.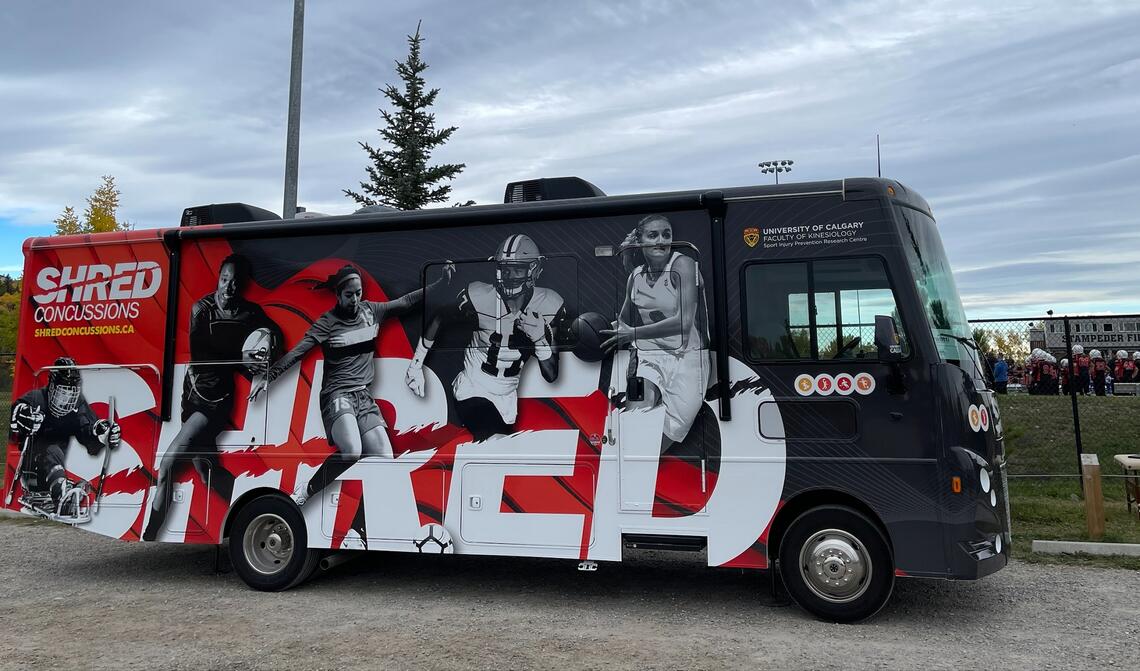 Check out the SHRED Mobile
The SHRed Mobile will be onsite the day of the bike swap!  The SHRED Mobile houses equipment to help facilitate concussion and injury prevention education and activities across Alberta.
Thanks to YYC Food Trucks, we are thrilled to have the vendors Family Dogs and Family Squeezed Lemonade on site to tantalize your tastebuds!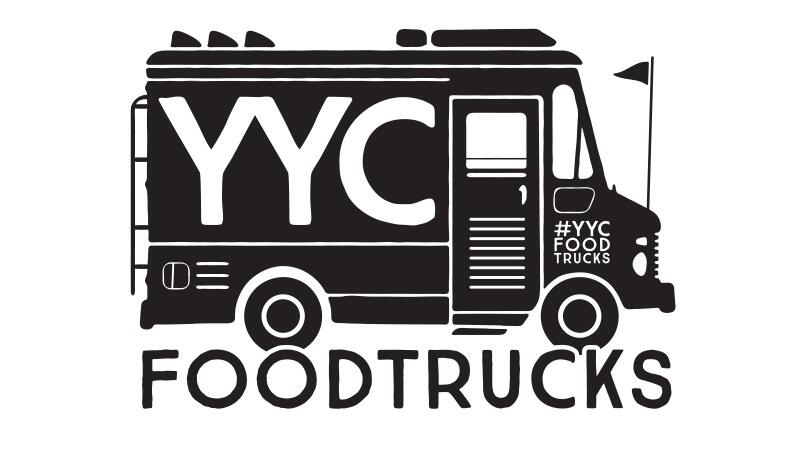 Volunteer for the Alberta Bike Swap
To make our first event a success, we need volunteers including alumni, students, faculty, staff and community members. Volunteers are asked to support the event from start to finish (7 a.m. - 5 p.m.), and food and refreshments will be provided throughout the day. Join the fun!